Spotlight on Neutrals: Quilts and More for Any Decor by Pat Wys is a collection of 12 quilt projects made in soothing tones that are easy on the eye. This line of designs celebrates the quiet beauty of a neutral palette, and shows how muted shades can still be used to create intriguing and attractive quilts.
Spotlight on Neutrals is an invaluable resource for quilters who like home decor sewing projects. The neutral color palette creates pieces that don't clash with any of your existing furniture, paint, or other decorations. Instead these quilts blend seamlessly into your decor, showing off your love of quilting without overwhelming a room. Quilting with neutrals is a sophisticated way to incorporate your hobby into your interior design. Wys has used a neutral color palette exclusively in this collection of patterns to demonstrate how beautiful a quilt can be without the least bit of color. These innovative designs can be used to create gorgeous neutral quilts for gifts or for your own home. And if you decide to swap out one of the neutral fabrics for an accent color, all the better!

FaveQuilts.com is giving away one copy of Spotlight on Neutrals to one lucky winner. It could be you!
Learn more and enter to win here.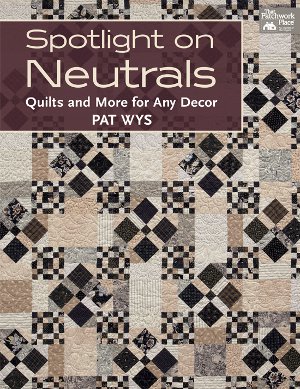 Contest ends October 23, 2012. You can enter once daily, so return often to improve your chances of winning!
Share and Enjoy